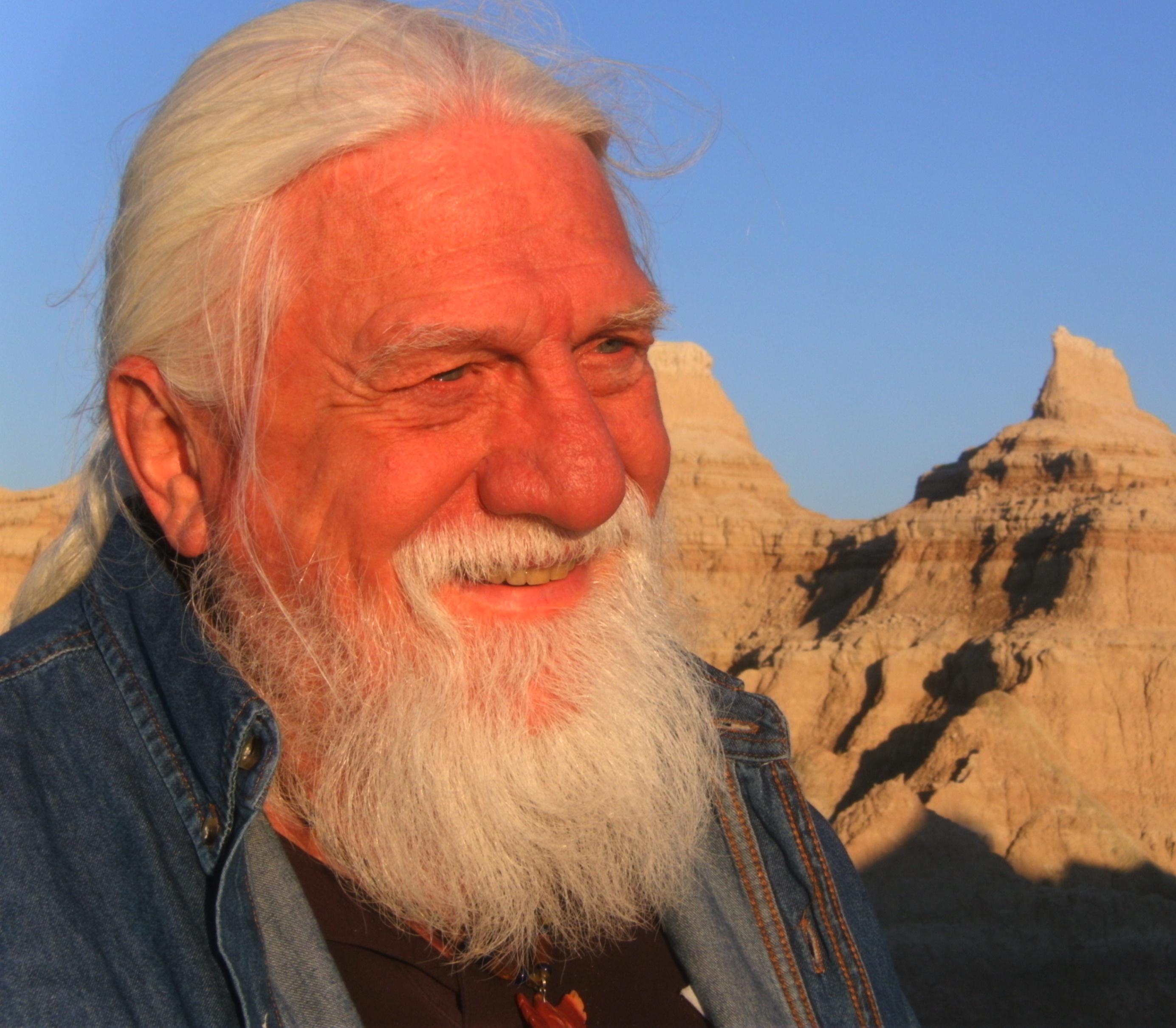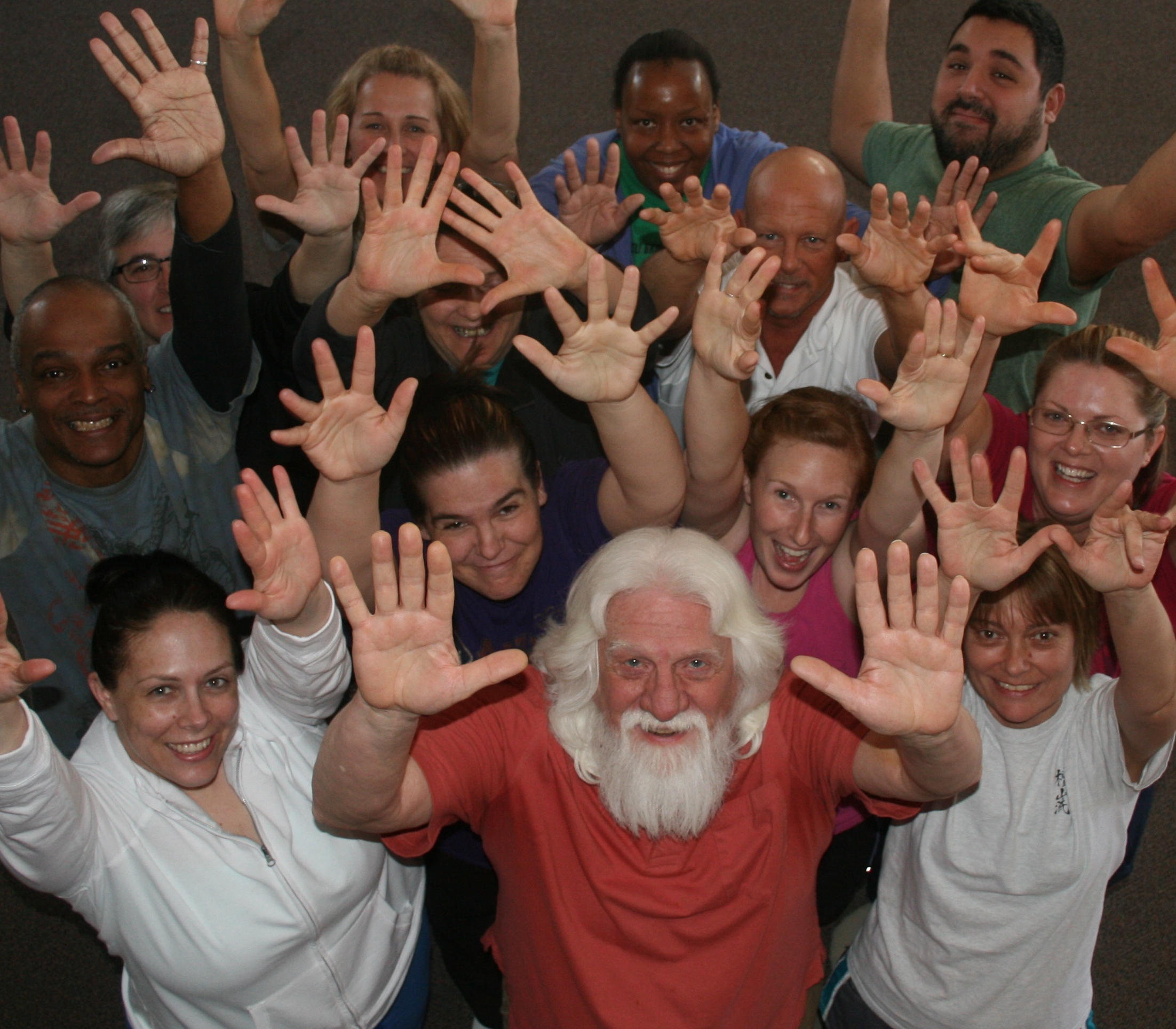 At New Dimensions in Wellness we are happy to announce: Call 402-561-0833
We are once again open for business! We are accepting appointments for counseling and BodyTalk, (with Krissa) and myofascial release, craniosacral therapy (with Krissa or Douglas) and Reiki (with Douglas). The Covid-19 guidelines will apply and clients will be required to wear masks.
We will continue to offer mental health therapy and energy treatments by phone or Zoom if that is preferred.
We also continue to conduct on-line Reiki classes: See the schedule on the Resources page for those.
We will resume in- person continuing education classes when that becomes appropriate.
Myofascial Release Therapy Seminars

Seminars - Two Days Each - Eight CE Hours Per Day, Presented by Douglas Lee-Regier, MA, LMT Now also one day classes, 8 CE Hr each, hands-on credit.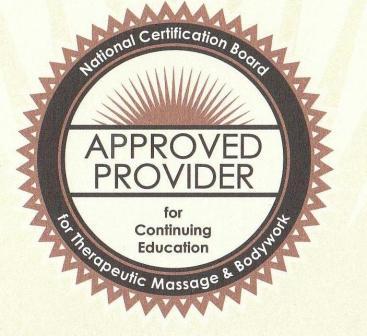 Our NCBTMB provider # is 450813-08. Credit is offered for certain classes. Check with us regarding these credits. The national organization no longer allows credit for some energy classes.
Contact Us at:
402-561-0833
3815 Charles St.
Omaha, Nebraska 68131
Email douglasndw@msn.com
2020 Seminars & Classes -- cancelled due to pandemic
2 Day Seminars – 16 CEU's
8 CE Hrs per day Fees for seminars. These CE seminars are 16 CEU's ($380) for 2 days, 8 CEU's ($195) for one day: add $15 late registration fee in last two weeks before the seminar date.

April 18-19, Healing Trauma
June 6-7, CranioSacral Therapy
Sep 26-27, Myofascial Release Therapy
Oct 24-25, Healing Trauma
One Day Classes – 8 CEU's
Fee for one day, stand alone classes: $195. Sign Up
June 13, Reflexology
Aug 9, Chakra Balancing
Nov 15, Reflexology
One Day Classes - 8 CEUs

Reflexology
This ancient method of healing teaches us to find various points on the feet and hands that affect corresponding parts of the whole body in order to strengthen areas of weakness or discomfort.

Chakra Balancing
Learn to assess various regions of the body for strength and weakness and to enhance and rebalance energy flow. We will use simple techniques and tools such as sound and material objects as well as touch and sensing the energy field.
For all classes you may register on-line by going to Sign Up, or you may call our office. You may also pre-register by calling our office with a deposit; tell us when you will pay the balance, as long as it is two weeks before the start of the class, and we will accommodate you as best we can. Or you can Register by postal mail.
Classes and seminars will be presented at our home/business in Omaha, unless a change of venue is announced. Such notification will be announced to participants after they are signed up.

If you take any of our seminars, you may list them on your renewal form. These seminars have consistently been approved for hands-on CE credit in Nebraska and Iowa for years. Seminars are offered to LMT's, PT's, PTA's and OT's as well as other health professionals.
Also available: Ethics for Massage Therapists - 3hrs - $50
Sign Up here. -- Class sent to you by email.
Group in-person classes also available.

Reiki Healing Classes also available -
See Resources Page for details on Reiki I, II & III.

*All classes held in Omaha. For lodging suggestions, Google "cheap hotels, city, state."

Note: All sessions are "hands-on" with instruction, demonstration, and practice, plus Q&A. The day is concluded with an overall review of techniques.

About the Instructor:
A licensed massage therapist and NCBTMB member since 2000, Douglas has in-depth training in Myofascial Release, Craniosacral Therapy, Visceral Manipulation, Therapeutic Touch, Heart Centered Therapy, and Reiki. Previously a college English teacher and adult educator, he continues to love teaching fresh, new ideas. A graduate of the Universal College of Healing Arts in Omaha in 1999, he has taught classes in Myofascial Release and CranioSacral Therapy, Energy Work, business, ethics, and Reiki. He has conducted MFR Therapy Seminars as continuing education for massage therapists and other health professionals since 2001. Douglas is a Reiki Master Teacher and offers classes and attunements to Reiki as well.
Programs for Seminars 16 CE Hours each; 8 contact hours per day
Healing Trauma - Myofascial Release Therapy Seminar -
with Unwinding and Trauma Release: Sign Up
Day 1 MFR Techniques for Lateral Body & Extremity Releases. The fascia and releases will be defined. The basic cross-hand technique will be shown as sinking-in, waiting, and releasing fascial restrictions. Psoas release / Quadratus lumborum release / Arm & leg pull.

Day 2 Fascial Body Movement, Unwinding, will be shown to release somatic/emotional trauma through movement. Various techniques from day 1, plus myofascial stretching will be shown in relation to spontaneous fascial body movement.

Lift Off - Myofascial Release Therapy Seminar with CranioSacral Therapy:
- for the Cervical/Thoracic area, Sign Up
Day 1 MFR Techniques for Cervical/Thoracic will be shown along with fascial body movement and fascial rebounding. The basic release approach of MFR - following the fascia - will be demonstrated using several applications to neck and shoulders. The techniques will allow the therapist to go deep into the cervical spine, approaching it from the anterior and posterior, with the client supine, prone and sitting upright.
Day 2 MFR Cervical/Thoracic Techniques, delving more deeply into the cervical/thoracic area and incorporating some pelvic release techniques. CranioSacral Therapy will be combined with various MFR techniques including the cranial base release, anterior cervical spine release, psoas release, and respiratory diaphragm release. Other cervical/thoracic, sternum, and chest releases will be demonstrated.
Walk in Balance - Myofascial Release Therapy Seminar with Pelvic Balancing : - MFR Techniques for Lumbar/Pelvis, Sign Up
Day 1 MFR Techniques for Lumbar/Pelvis - with Fascial Balancing. The basic release approach of MFR: following the fascia will be demonstrated using various techniques such as: the cross-hand technique, psoas and piriformis releases, and rotation of the pelvis. The structure of the fascia will be shown in relation to fascial rebounding, moving in and out of restrictions.
Day 2 MFR Techniques including thoraco-lumbar rotation, hip scouring and hip releases will be combined with leg-pull, lumbar-sacral release, quadratis lumbar release, and scapula releases to demonstrate further pelvic balancing techniques.
8:15 a.m. Registration & sign-in
8:30 Session 1 *10:00 Break
10:05 Session 2 *12:10 Lunch
1:00 Session 3 *3:00 Break
3:05 Session 4 *4:30 Dismissal

NOTE: It is very important that you come to the MFR sessions prepared to work in "skin accessible" clothing, so that we don't have to work under sheets. Shorts and a light top work well as long as they are loose fitting. Snacks will be provided; lunch will be on your own - local restaurants or brown bag. Tables are needed at hotel venues but not at massage schools; if you can bring a table, check with us as to whether it's needed.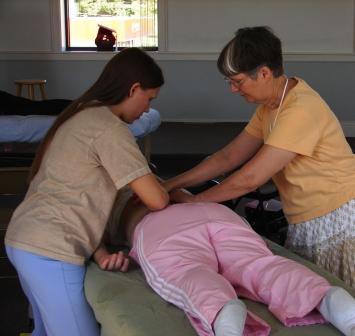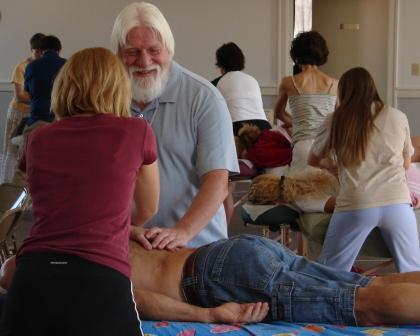 Download pictures from seminar.
Here's how an Intensive might look, one on one!